Reflexology in the Kingdom of Siam
Stay & Worshop
May 17 - 22, 2020
Check in on 17th from 2 pm, Check out on 23rd from 11 am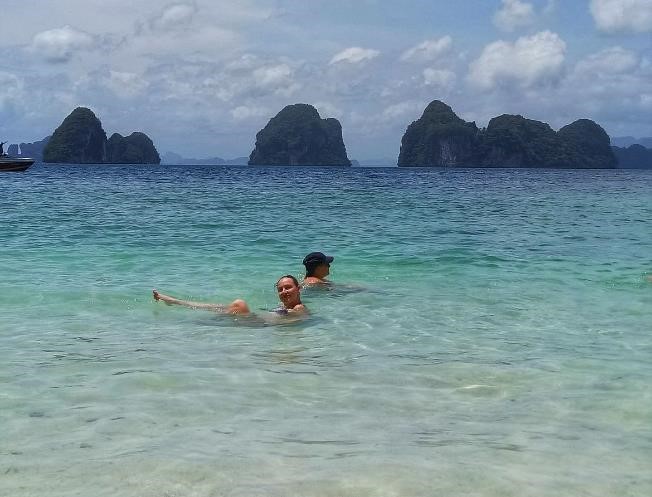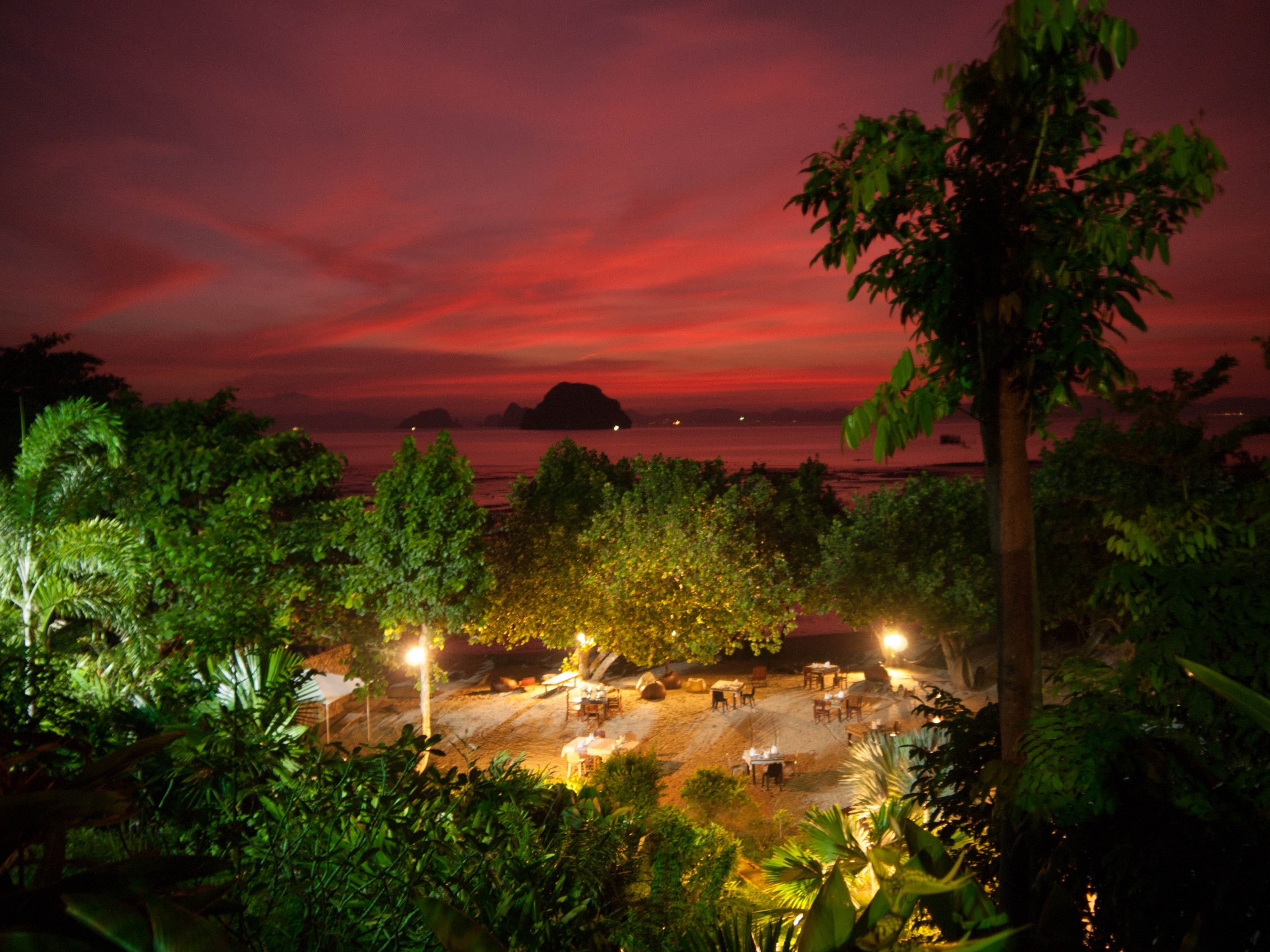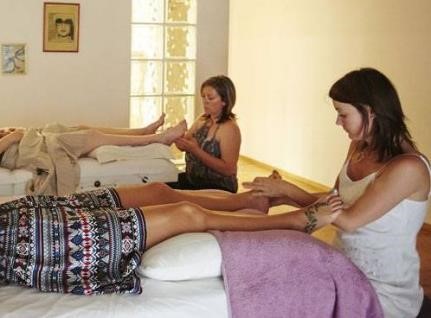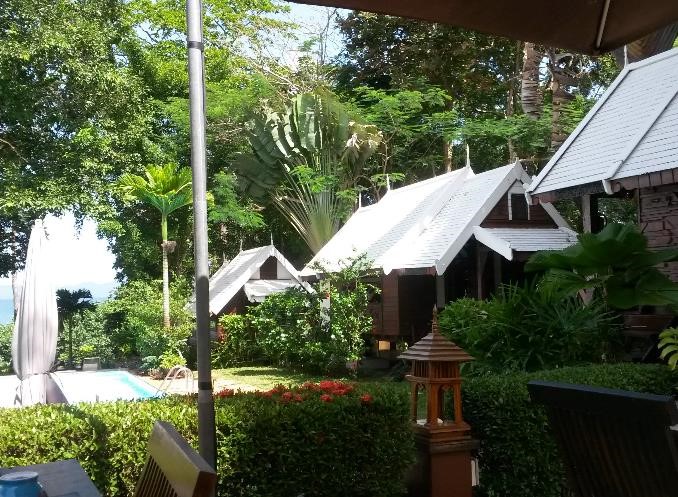 « Traveling begins with your feet »(Lætitia Bernateau & Nathalie Monge)
Our workshop will take place this year in one of the most stunning bays in Asia, if not in the whole world, Phang Nga, in Krabi, Southern Thailand.
This private boutique hotel is a true haven. No one around, only nature. No trouble, no noise, just the birds and the waves. And caring, gentle staff to take care of everything. If you are looking for a space where to reconnect with yourself, this is it, the perfect place.
There will be no outsiders, no unwanted distractions, no chores.
For 6 days and 7 nights, allow yourself to come back to the essential. Take this opportunity to disconnect safely from the outside world.
Reflexology, relaxation, self-massage workshops
Meditation with a disciple of the monk Buddhadasa Bhikkhu
Your location being so close from the must see spots, there will be plenty of opportunites to discover this wonderful region of Thailand, with TOURS and EXCURSIONS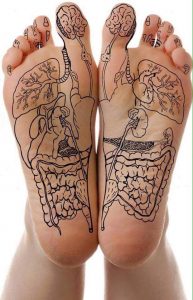 Your Hosts, the wellness masters Lætitia Bernateau and Nathalie Monge
Reflexology allows to connect to the others as well as with yourself. Our paths are altogether different and similar. In any case listening and helping others is at the very center our work. So when, in 2010, we decided to join our practices, reflexology imposed itself.
Our association goes beyond reflexology: this is a wonderful friendship story to, our own interpretation of Yin and Yang, of complementarity. With our workshops, we want to share with as many people as possible this personnal and professionnal experience.
Nathalie and Lætitia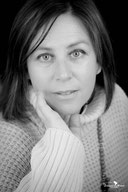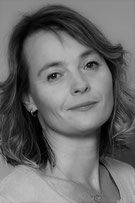 Two passionate, two friends, two experts who will listen to your body and your mind for the sole purpose of freeing you from your daily troubles and thus improve your quality of personal and professional life.
Their specialty: combining plantar reflexology with Chinese energetic to strengthen and stabilize the results obtained.
What is reflexology ?
It is an ancient manual practice that is part of natural medicine, used for millennia in China, Egypt, India ... The foot is the representation of the human body. A specific touch on certain area of ​​the foot helps restore the balance of the body. Reféxology is used to:
Relax : stress is at the root of many physical and psychological dysfunctions.
Activate : blood and lymphatic circulation, mobilize waste, stimulate emunctories and regulate the nervous system.
Prevent, relieve, even éliminate a lot of everyday ailments.
What is Chinese Energetics?
We come to the world with predispositions Yin or Yang. The external circumstances, the way of life ... can change these predispositions towards an imbalance which will result in the appearance of a pathology, a disease. The Chinese energetic allows to restore the balance between Yin and Yang, by working on the vital organs that function in pairs called Five Elements:
EARTH: spleen / pancreas and stomach.
WATER : kidney and bladder.
WOOD: liver and gall bladder. li>
FIRE : heart and small intestine.
METAL: lung and colon.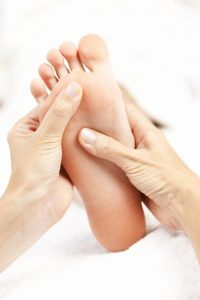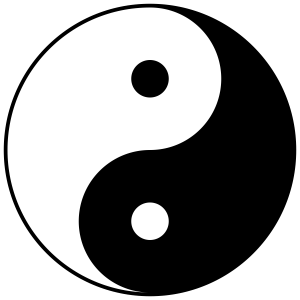 Lætitia & Nathalie's experiences
Certified reflexology by the school of Bordeaux ARF.
Trained to support cancer patients and their entourage in the Resource Center Aix en Provence, under the aegis of Dr. Jean-Loup Mouysset, medical oncologist at the clinic La Provençale in Aix en Provence.
Trained in aromatherapy.
Trained in the management of stress at work in business by the EIR school of Toulouse.
Trained in foot osteopathy by Vincent VEYRIER teacher at the International School of Osteopathy of Aix en Provence.
Members of the Professional Syndicate of Reflexologists.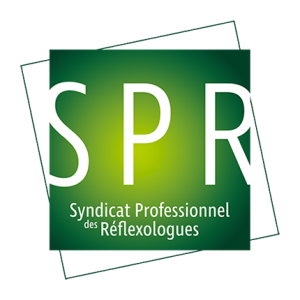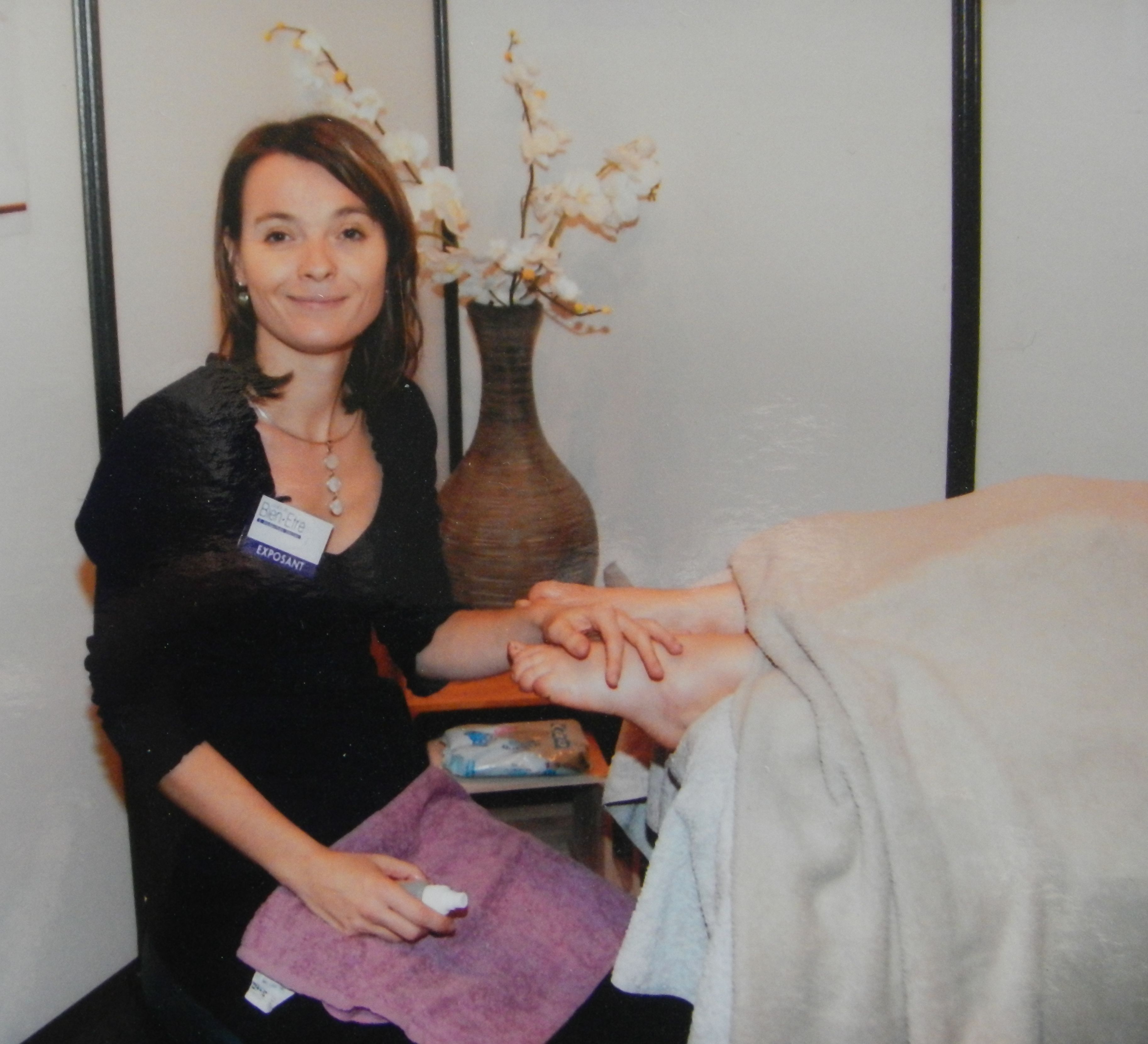 Accommodation
Le Passe-Temps is a happy place. The serenity of the surroundings and the warm atmosphere inside create the perfect blend for rejuvenation. Enjoy discreet luxury, caring and quality, perfectly designed for those who either wish to engage in activities, or simply let go and relax into the tropical breeze. Dream about a day lying on the beach, or taking part in swimming, walking and exploring the region.
Unwind in the comfort of your own charming, teak bungalow. Each of the nine bungalows is delightfully appointed and fully equipped with air-conditioning and own private bathroom. Each room is individually decorated with furnishings and antiques sourced from across Asia.
Available as single, twin, double and family rooms. Maximum 20 people only.
We wish to maintain the warm intimacy and family spirit that owners Olivier and Kiet bring to their lovely hotel property.
All meals are prepared onsite by the hotel's private chefs, and consists of healthy, detoxifying options for those who wish to compliment their yoga and well-being work. All food is fresh, local and traditional. Please advise us of any dietary requirements and allergies..
Please note: specialized orders (eg wine, cocktails) will need to be paid additionally.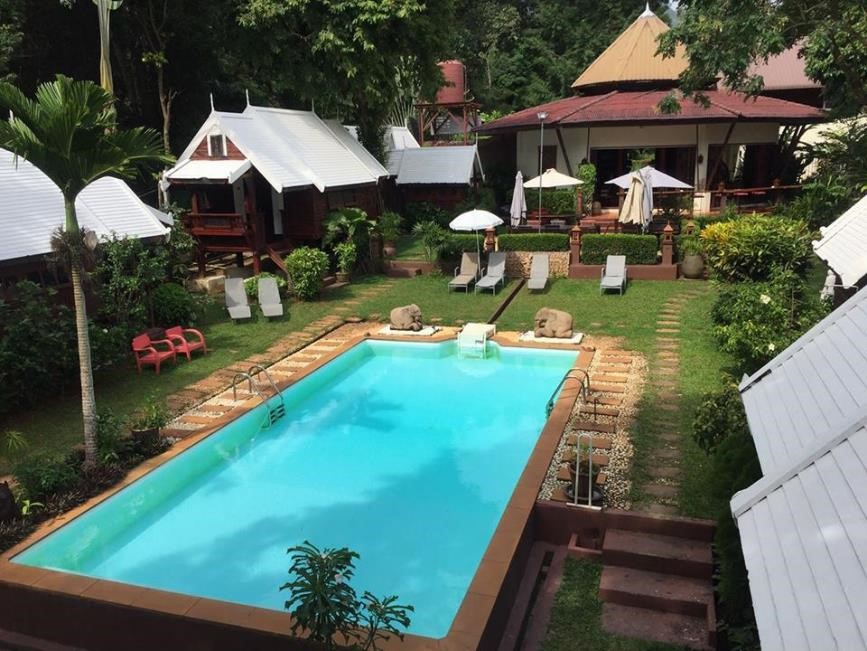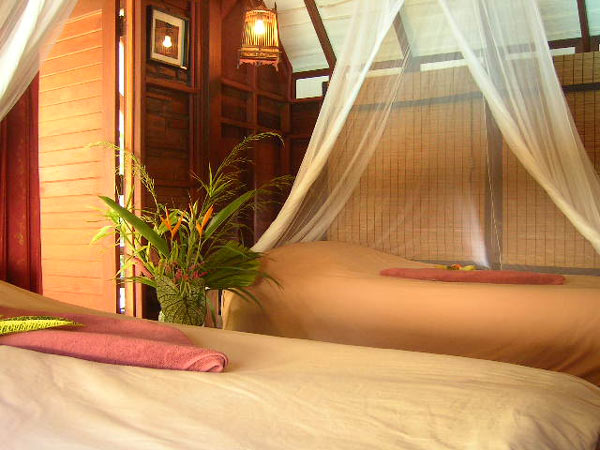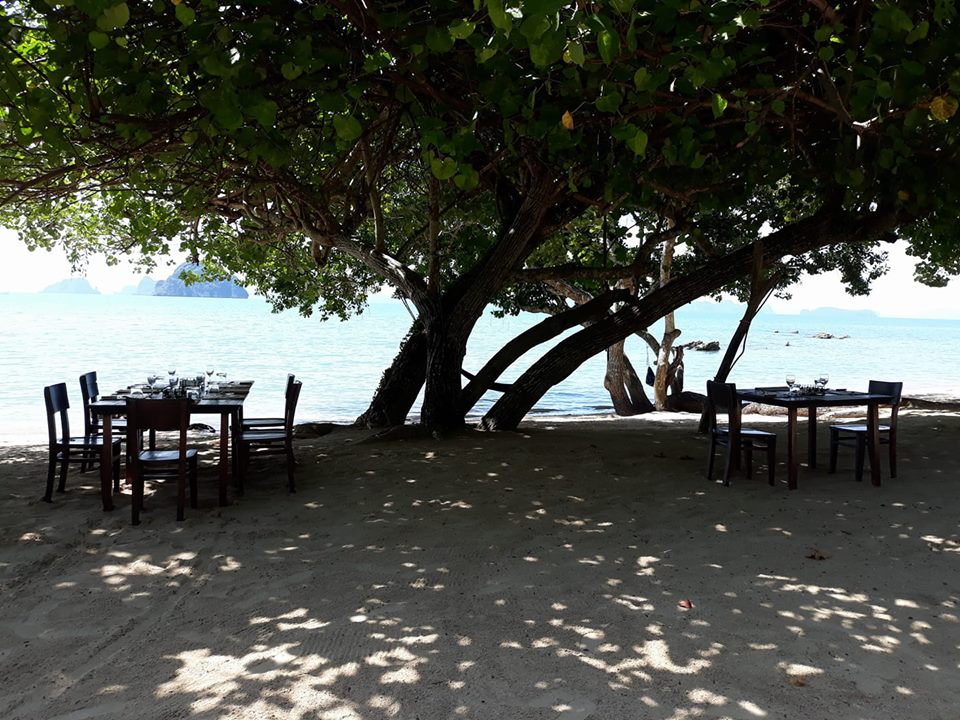 Program
In addition to your reflexology, aromatherapy and relaxation workshops, you will enjoy activities or excursions to discover the province of Krabi. Visits to fill your head image resource, image well being to store for your return to France.
Day 1,
Installation in your bungalows.
At the end of the day relaxation and meditation on the beach facing the sun set.
Welcome drinks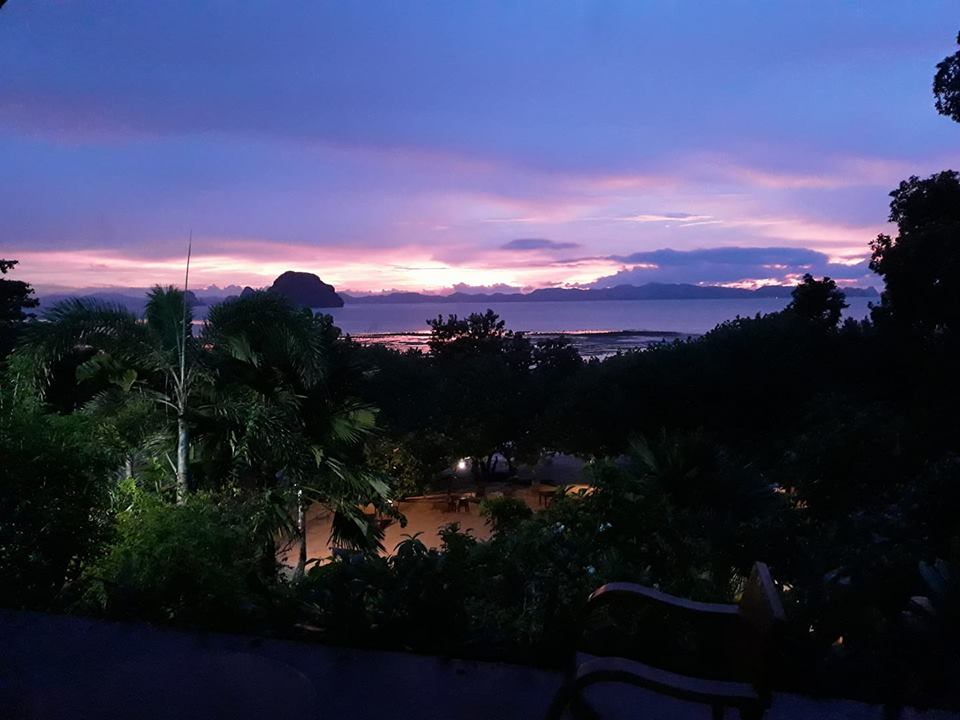 Day 2,
In te morning, reflexology workshop.
In the afternoon Tha Pom mangrove: An eco-tour through the gorged cliffs of Sa Kaew and swimming in the Pooltara natural pool. Decent clothes, good shoes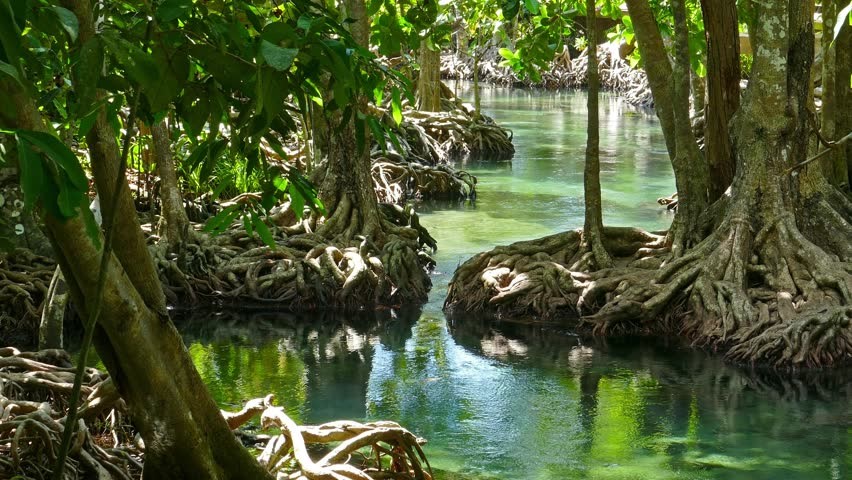 Day 3,
In the morning, aromatherapy workshop followed by a relaxation / meditation session.
In the afternoon free time.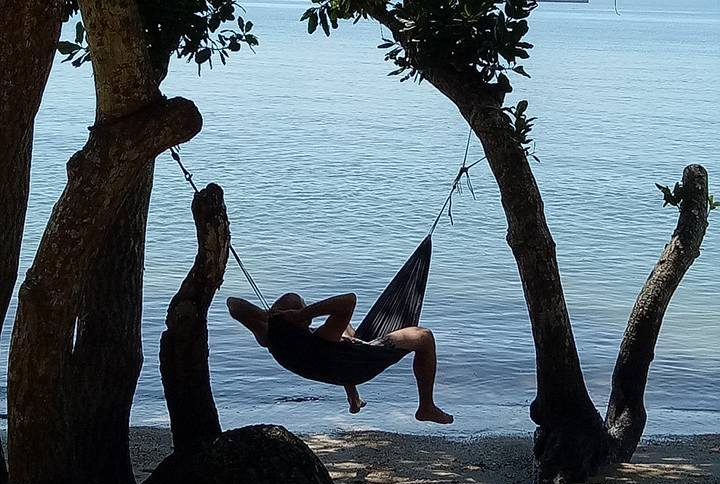 Day 4,
Meet Khung Nong , disciple of the monk Buddhadasa Bhikkhu who will present you the fundamental teachings of this monk and will exchange with you on the principles of meditation vipassana .
Practice with a meditation workshop.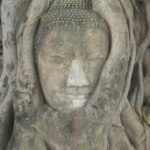 Day 5,
In the morning; learning to foot massage 2 by 2 followed by a session of relaxation.
Afternoon free.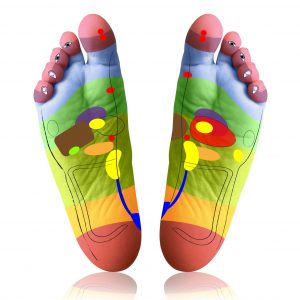 Day 6,
After your breakfast, head to Krabi for a guided tour of the market and purchase the ingredients that will serve you for 3 traditional Thai dishes under the guidance of the Restaurant Cook the Sandbox.
In the afternoon relax reflexology workshop followed by a moment of exchange on this well being elapsed.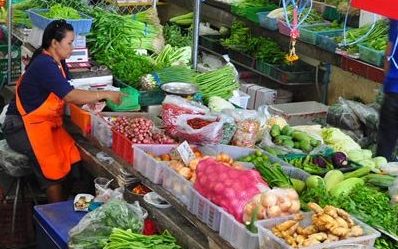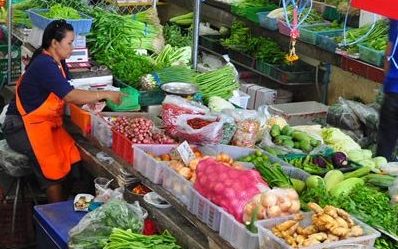 For those who wish, you can also enjoy additional activities outside of the main programme such as Thai Boxing, Thai Massage. Or you can simply stay at Le Passe Temps and relax by the sea or the pool.
Please note:
Due to weather and number of participants, activities may be altered to equivalent explorations and offerings to best suit the group.
Olivier and Kiet, owners of Le Passe-Temps, and Beer, their manager, all speak French, English and Thai.
Le Passe-Temps is a member of the prestigious Secret Retreats boutique collection.
We are also a member of Trash Hero, and as such we invite our guests not to use or bring single-use plastic bottles, bags and straws in the hotel.
Inscription
Stay from 1300 € per person in full board with workshops and excursions mentioned in the program (without flights & aeroport transfert); 35% down payment upon registration and the balance no later than one month before departure.
Please tell us about any health problems and dietary restrictions.
Contact
contact@vuesdasie.com
+33 (0)6 60 77 17 61 (Fr)
or
contact@lepassetemps-krabi.com
+66 (0)83 644 4141 (Eng, Th, Fr)
To Register: click here
Laetitia &Nathalie and the team of Vues d'Asie are happy to offer you this stay and are eager to take you there.